Eyebrow Lamination - what is it?
Eyebrow Lamination Treatment
Lamination is much more delicate than permanent makeup to achieve permanent, natural eyebrow styling. After the treatment, they're visually thickened and arranged, maintaining their natural look. Lamination is also a way to even out the asymmetry of the eyebrows.
How does this work? The whole treatment is based on the two-step action of the lamination cream. In the first step, an activator is applied to the eyebrows, making the hair easier to style. It's enough to comb the eyebrows gently with a brush to tame them and give them the desired shape.
The neutraliser is a product that we use in the second step to preserve the effect obtained while working with the activator. You should pay special attention to use professional and safe preparations for lamination. It's worth choosing those that contain hydrolyzed keratin.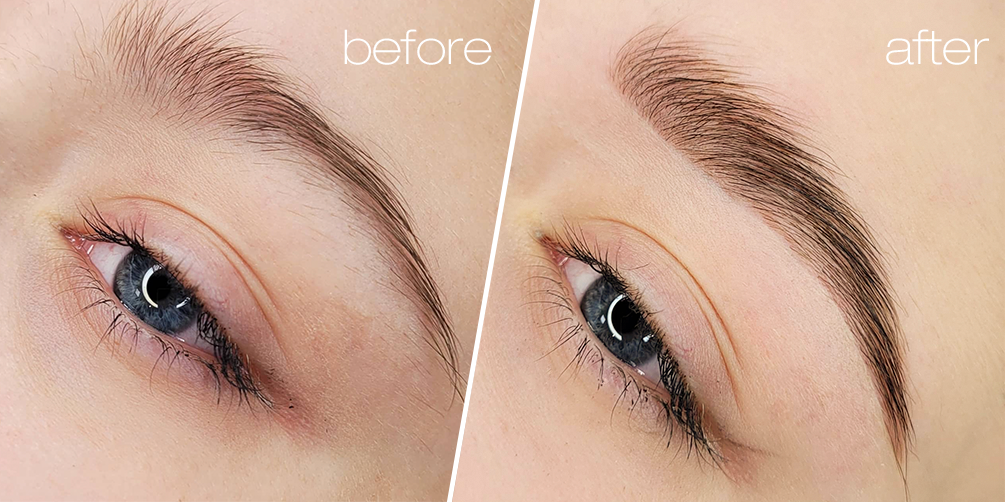 When to avoid lamination? It depends mainly on the condition of the eyebrows. If they are thin, weak or delicate, or with bold patches, it's better not to perform the treatment. Other contraindications will be all kinds of allergies, as well as disruption of the epidermis.
How to enrich the eyebrow lamination treatment?
At the end of the entire lamination process, you can dye the eyebrows with gel paint and tweeze them if necessary. We also enrich the lamination treatment with botox, which acts as a "SPA for the eyebrows". Royal Lash Botox is a real nutritional bomb, containing as much as 95% of ingredients of natural origin. After the lamination treatment, eyebrow oiling is also essential - at least once a day, starting from the first day.
Lami Brow Duo Set - start the adventure with eyebrow lamination
Make your clients' dreams of perfectly arranged and tame hair come true, and introduce eyebrow lamination treatment to your salon. We've prepared a special Lami Brow Duo Set, which includes two sets of sachets with a two-step lamination cream and 10 silicone brushes perfect for eyebrow care so that you could try Posh Lashes lamination products. Inside you will also find detailed instructions on how to perform the treatment properly.
See for yourself how simple it is and start your eyebrow lamination adventure today. Your clients will surely be delighted.
Pssst! If you want to learn more about eyebrow and eyelash styling, visit our YouTube channel. We publish new episodes every Wednesday at 5:00 PM!